Multi-disciplined digital designer. Working in London. Living in Southend-on-Sea. Will always be Glasgow born and bred.
Current work
Head of New Media at LEWIS PR, a global PR firm. Our department offers a wide range of online services to compliment PR campaigns including websites, video production, Flash viral games, iPhone and Facebook apps and Augmented Reality. A few examples of our services can be found at our online showcase – http://www.lewispr.com/digital

Background
4 year BEng in Product Design Engineering held jointly at Glasgow University and Glasgow School of Art, followed by a 2 year MPhil in Advanced 2D/3D Motion Graphics and Virtual Prototyping at Glasgow School of Art. In my final year of this course I was sponsored by Red Lemon Studios, a computer games company in Glasgow, and my final year project focussed on researching Stereoscopic 3D animation and producing a level of the game Half Life that I designed to work with active shutter 3D glasses.

Before all that I used to draw caricatures and illustrations for money and dabble in other forms of art including charcoal drawings as well as blackboard designs for pubs and bars. I'm currently getting back into my art, more in a digital way, and will blog about that as it happens.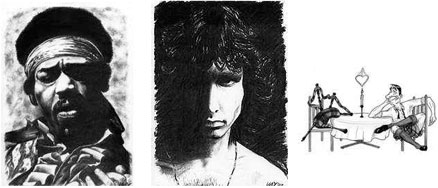 Speech
Having had a stutter all my life, in 2000 I attended The McGuire Programme which has hugely helped me gain control over my speech. The courses are all run by people who used to have bad stammers. I am now a Course Instructor and Staff Trainer on the course and enjoy coaching new students on how to improve their speech and face up to their fears. Not just to overcome stuttering but also to practice public speaking and presentation skills. I have had many speaking challenges since joining the programme, all of which I relished, including being interviewed on TV and Radio and speaking at Speakers' Corner, Hyde Park, London. Struggle makes you stronger and I wouldn't change a thing.
Random
Other random things that I like which I might blog about from time to time include retro video games, retro toys, 80s TV and movies, comics, art, design, astronomy, photography, gadgets, social media and Guinness.