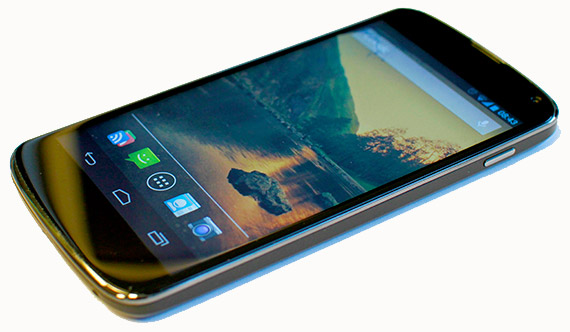 Just over a week ago I got my new Nexus 4. I thought I'd give it at least a week before I wrote a blog post about it so that I could really get to use it properly and get over the 'new phone' excitement. Well to be honest I'm still not quite over it. It's easily the best phone I've had and there's only a very few things I'm not totally happy with.
HANDSET
Good – First thing that hit me was the size of the screen. Much larger than my  previous Nexus S and my work iPhone. Great for watching videos but occasionally a menu button is a bit of a stretch away when holding it in one hand. I am, however, already totally used to it. In fact it's really strange now to go back to a smaller phone. The weight and build of it is also very nice. Sturdy and classy. Nice glass most of the way round.
Bad – It looks slick and unfortunately it actually is a bit slick. Slippy, that is. The edges are a bit too smooth and it can be quite easy to drop if you're not careful. It can also be quite hard to pick up from a desk actually when it's lying flat. I didn't want to have use a skin or case on this phone, as it's so beautiful without one and I was going to put my faith in the Gorilla Glass, but I actually have bought a case for it now just to give me better grip on it. The biggest problem I have with the handset is that the main power button is very inset. It hardly sticks out at all. This can actually become a problem when, for example, it's night time and you reach over and want to press the power button to wake it up and see what time it is or if you have any missed calls. It can actually be hard to feel which way round the phone is and where the button is.
VIDEOS
Good – Everything is good with video. Any format of video played, especially with VLC or MX Player. Easy to transfer videos to your phone or to download them from the great Google Play library. Beautiful streaming on Netflix, TVCatchup, YouTube, TED, BBC iPlayer etc. All looking great on the 4″ screen. Maybe it's not officially called a retina screen but its certainly good enough for me.
Bad – erm, it's not 3D?
CUSTOMISATION
Good – Well this is the main draw of Android, and it doesn't disappoint. So much control over your app organisation, your home page and your lock screen all as standard. Then you can also install third party menu 'launchers'. And I'm not going to even get into the things you can do if you root the phone.
Bad – Doesn't seem to have things like Do Not Disturb features or pre-written text replies but I'm still looking. I could be wrong. If not then I'm sure there are apps for that.
APPS
Good – Android apps really have come on in leaps and bounds in the last two years. In some cases they can be better than iOS apps it seems (Spotify I'm looking at you). Just smoother or more settings etc. Maybe there's a technical reason for this. The apps just pop. So quick and smooth. Probably due to the quad-core Snapdragon processor. They never use to work so well on my previous Nexus S. All the main apps that you could name are all available on Android now of course and are all really well supported. Android is no longer just the immature wee brother of iOS. It's all grown up and is fighting for the crown. And the Google Play store is awesome now. Way more intuitive than the latest version of the App Store in my opinion. Also, I am a pretty heavy Google user: Google Drive, Google Calendar, Google Bookmarks, Google Reader. I use all these many times a day and Android obviously links in natively to these platforms and the apps all work seamlessly.
Bad – There are a few popular newer apps which are still iOS only (such as Vine) but there's not too many and the number is coming down all the time.
MY MOST USED APPS
gReader Pro
Feedly
Wunderlist
Flicknote
Google Drive
Chrome
Google Calendar
Twitter
Instagram
Google Maps
IMDB
eBay
Spotify
And I need to give an honourable mention to all the retro gaming emulators out there. So much more choice on Android. Excellent ZX Spectrum, BBC Micro, NES, SNES, Mega Drive and MAME emulators available.
SUMMARY
All-in-all, pound for pound the best phone out there and the first iPhone beater in my opinion. Android finally done right.
This Gizmodo user review about the Nexus 4 helped me make my decision to get it and is definitely worth a read if you're interested in the phone.